Our Top Club Management Software & Fitness Studio Features
Gym & Fitness Facility Scheduling
Automate class scheduling, eliminate double online bookings,
and allow staff to search for available dates, personal
trainers, and rooms.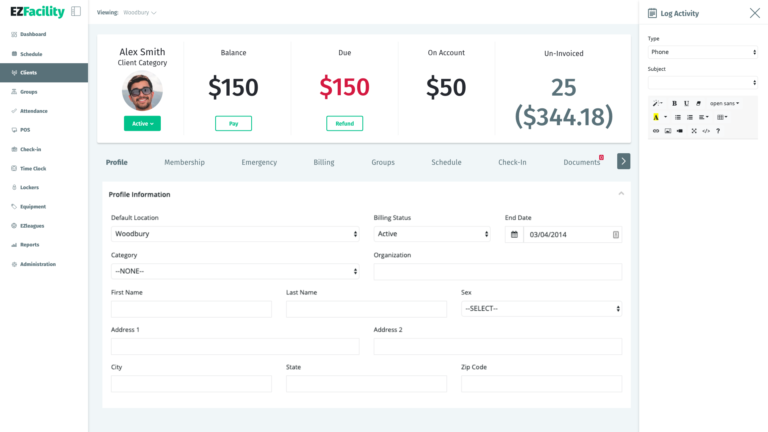 Gym Membership Management
Create custom membership plans, manage relationships, contracts and renewals, easily access waivers, and automate fee collection.
Speed up purchases, automate reorder alerts, manage online or in house coupons codes, and report on product profitability.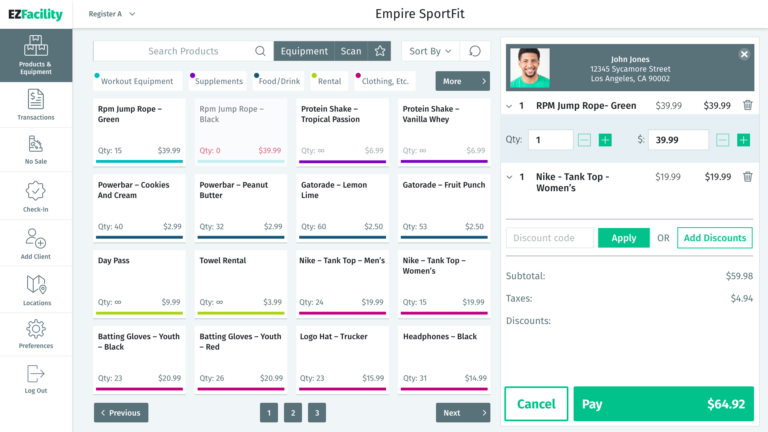 Make it convenient for clients and players to register online for individual training, group training, leagues, and tournaments. Provide online access to forms, waivers, payment options, and more.
Staff & Personal Trainer Management
Improve staff efficiency with Google and Outlook calendar integrations, commissions, payroll, hourly wage tracking,
reporting and more.
Consolidate all revenue sources into one system to track the sale of packages, gym memberships, and point of sale items.
Responsive Design, Secure Platform
Manage your gym anywhere from any device with our fully responsive easy-to-navigate user interface. Save time with simple, clean workflows and processes designed to anticipate the needs of your staff. We're securely hosted on Amazon Web Services and boast a 99.99% uptime.
Additional Features Include
Successful Club Management Starts Here
Sign up for a free trial and online demonstration today!
As a PCI DSS Level 1 certified company, EZFacility keeps your customers' data safe, their interactions secure, and your gym protected.
From a small fitness studio to a large gym or health club, our gym software is designed to support your specific needs and grow with your business.
Whether you're at home or on the go, stay connected to your gym 24/7 from any device with EZFacility's online gym management software.
Receive trial access and a live demonstration to see how EZFacility can strengthen your business.